WNY's 1st and #1 Microblading Destination
With locations in Manhattan and Beverly Hills
Microblading
An advanced brow embroidery technique whereby superfine hairlike lines are deposited into the skin with pigment to simulate the most natural and realistic-looking brows.
Powder Brow
A digital permanent makeup machine and a very small needle deposits pigment beneath the surface of the skin, which produces a very fine, powder-effect on your brows
Eyelash Extensions
Customize your lash to achieve your desired look of a natural, cat, or doll eye. For volume lashes, we offer a wispy volume, eyeliner effect, or mega volume.
Nipple & Areola 3D Tattooing
A fully customized and hyper-realistic tattooing technique to help breast cancer survivors feel comfortable and confident in their bodies post-surgery.
Camouflage Tattoo
A technique of permanently concealing stretch marks, scars, and other skin-related imperfections utilizing precise, custom color blending formulas.
Inkless Revision
A non-invasive method of tattooing that improves the tone and texture of acne scars, stretch marks, lipo/BBL/facelift/breast augmentation scars, burn scars, and injury/surgery scars.
Microblading Training
Learn the essentials of microblading and microshading in this two-day group course that provides the confidence and fundamentals needed to master the process.
Facial Treatments
Featuring the latest in skincare technology, we guarantee that you'll leave feeling refreshed, rejuvenated, and with a renewed sense of confidence in your skin.
Lauren S.
★★★★★
Shannon is amazing loved the facial I received from her!
Kerry C.
★★★★★
5/5! Facial was wonderful and the place is so, so cute! Will be going back for other services!!
Alisha G.
★★★★★
Amazing job! Looking forward to my next session.
Jennifer K.
★★★★★
Ashley is amazing! She does a meticulous job. She is very experienced and makes sure you do what's best for your brow, face and skin tone! I cannot recommend going to BLINK enough! She is the best!!!
Jean G.
★★★★★
Awesome. Beautiful can't say enough good things about Ashley and blink
Alyssa H.
★★★★★
Karen K.
★★★★★
Have been going to Blink Beauty Bar for several years now. Ashley does such a wonderful job. Very professional, Clean friendly environment. Looking forward to my annual eyebrow touch up next week. I would never go anywhere else!
Hailey T.
★★★★★
Best lash extensions ever
Angela D.
★★★★★
Michael J.
★★★★★
Jermaine S.
★★★★★
Debby P.
★★★★★
Danielle W.
★★★★★
Amazing! Highly recommend! Could not be more pleased!
Emma P.
★★★★★
My lashes always turn out amazing! Highly recommend!
Dawn H.
★★★★★
Ashley is phenomenal! The very best at her job. Would recommend her 10xs over above anyone!!
Jacob T.
★★★★★
Blink was an amazing overall experience. The staff were professional, knowledgeable and very nice. I would highly recommend Blink to anyone I know!
Shelley Z.
★★★★★
Amazing....
sandy b
★★★★★
Wonderful service.Spectacular place.Couldn't be happier with my results.
Brooke G.
★★★★★
I've never gotten my eyebrows done before therefore I was a little timid going in but the girls were amazing! They made me feel so comfortable and I come out feeling/looking amazing!! Will definitely be going back
Melissa B.
★★★★★
Wonderful experience and great results. Ashley was super nice and would highly recommend.
Chantel S.
★★★★★
I have been going here to get eyelash extensions for a couple of months now and I have never had a bad experience. Claudia does a really nice job and she is super nice. I highly recommend.
Lenee B.
★★★★★
absolutely loved this place! everyone was so friendly and welcoming. the microblading turned out perfect 🙂
Abby A.
★★★★★
Brittany K.
★★★★★
Ashley is the best of the best!
bsl824
★★★★★
Megan C.
★★★★★
Blink Beauty Bar is an amazing facility! Super clean and the staff is very nice. I recommend going to Klaudia for your eyelashes. She is super sweet and does an awesome job!
Sean P.
★★★★★
Great business! Amazing services
Rebekah B.
★★★★★
I just had my eyelashes done by Klaudia and OMG, she did an amazing job! I highly suggest that you go to her as well. She was extremely patient and knowledgeable.
Tara H.
★★★★★
I had my eyelashes done by Klaudia, let me just say I feel and look like a new woman!She made the process comfortable, listened to my needs and delivered a quality look!I love Blink Beauty Bar. The staff is friendly and professional and the office offers a welcoming ambiance
Jason P.
★★★★★
Sue L.
★★★★★
Matthew M.
★★★★★
Love Blink and how friendly everyone is. They made me feel very comfortable for it being my first time getting my treatment. I am extremely pleased with my appointment and would recommend to anyone you go to Blink Beauty Bar
liz S.
★★★★★
I just took the Microblading Training Course and it was such an amazing experience. Ashley was such a great teacher, they really went into great details about all aspects of Microblading and the business side of it. They were able to provide a lot of one on one time and help me to feel very comfortable and confident leaving the class. I honestly just wish it was longer to spend more time with everyone! I would highly recommend this course to anyone who has interest in Microblading! So much fun!!
Christina P.
★★★★★
Incredible experience. Beautiful spot. My eyebrows are perfect!! So happy and can't wait to return.
Shirley S.
★★★★★
Thank you so much for the wonderful work you do! I love my eye brows and how well you shaped it. And best of all, I know I can always depend on walking out of your beauty parlor feeling and looking my absolute best! Thank you once again. 🙏🏾
Gloria G.
★★★★★
Just went for my annual touch up and as always the best experience. Ashley did a phenomenal job addressing the fading issues and giving me exactly what I needed. My eyebrows look so good and natural. The place is beautiful and elegant, Ashley is always so welcoming and friendly. Definitely my go to place for my eyebrows.
Shaunna W.
★★★★★
Miranda S.
★★★★★
I went in yesterday for my first session of microblading and shading was added for better result on oilier skin. The salon was very clean and decorated beautifully. The staff was very inviting and pleasant. Ashley was recommended to me after typing in Google search "Best microblading in Buffalo" and it's easy to see why. She's efficient with time, very well poised and put together, and professional. I left happy with the results so far, and can't wait to see fully healed end result. I'd recommend this as the place to go for any eyebrow concerns. Very gifted artistry!
Aimee N.
★★★★★
Bling Beauty Bar has amazing customer service. They talk to customers very nicely and they place is very clean. My experience here was amazing and I'm happy with the results. Ladies this is the best place to get your eyebrows done
Brooke N.
★★★★★
My eyebrows were very thin and uneven. One eyebrow was significantly higher than the other. Ashley was able to completely even them out without taking away from their natural shape. Now they have a beautiful shape and they're so full and even! I highly recommend blink beauty bar if you are looking to get your eyebrows microbladed.
Tway
★★★★★
Blink Beauty Bar place is amazing Everyone is very personable and the atmosphere also has a comfortable safe vibe. work is done with confidence and most importantly quality with efficiently.
Gabrielle S.
★★★★★
Savannah has been doing my lashes for months now & I've never had an issues! Clean & organized space …also very friendly. Love blink beauty!
Lee B.
★★★★★
I could not recommend BLINK Beauty Bar enough. I was so hesitant getting micro bladed, as I do not have any tattoos and was so scared that it would hurt. I also was nervous to do a procedure like this on my face due to having fair skin and being sensitive. Ashley made the process so smooth and easy, and made me feel extremely comfortable. She's an expert in her field and I recommend her to everyone who is interested. Bonus: Her new space in Elmwood village is stunning and transports you to such a cool, inviting space.
Joy love Q.
★★★★★
I love my eyelashes so much She is the best everyone is so nice and friendly and the place is so beautiful clean neat
Tedra D
★★★★★
Very clean and well decorated. Both Ashley and Basia were polite and personable. Ashley gave my eyebrows a flattering natural shape and color. She knows her craft quite well. I have very blonde eyebrows; she chose a well matched color for my hair. As per the healing process the color faded a bit, but can be easily adjusted with a touch up. I waited too long to do powder brows, I wish I did this sooner!
Nicole S.
★★★★★
I've been coming to Blink for years. Ashley is very detail oriented and a true artist. I highly recommend the business.
tiffany D.
★★★★★
It took me about 5 years to decide to have my eyebrows micro bladed, my eyebrows were so bare from plucking all the time they were uneven patchy and just ugly. I finally took the jump and did it!!!! So HAPPY I DID!!! Ashley did an amazing job. She knew exactly how to shape them correctly to fit my face. I finally have an arch thanks to her. The procedure did not hurt as much as I expected. It feels like someone is brushing your eyebrows with a dull knife. She took her time and did her thing and did a wonderful job. I sat in my car afterwards I could have been crying because my eyebrows could have been botched but I sat in my car with a huge smile. I will recommend her to anyone may be a little pricey for some but you pay for what you get. Go see Ashley she is very talented in her craft and you will thank yourself, especially if you hate your eyebrows don't hesitate get it done and congratulate!!! Thank you Ashley!!!! You did your thing girl!!!!!
Lauren S.
★★★★★
I have been going to Ashley for over 5 years now and she keeps getting better and better. She will calm your nerves and answer all your questions about everything. Her work looks very natural and you will not regret getting any eyebrow work done! You will love it! 😀
luigi B.
★★★★★
Took Blink Beauty Bars training academy course and couldn't be happier! Step by step Ashley walked me through everything. Every question and concern was answered. Even weeks later I called back and Ashley was more than willing to provide any advice I needed! I would rate Blink Academy 10 stars if I could! Thanks so much Ashley!
Megan G.
★★★★★
I purposely waited a few months to write this review to see how my brows look after the initial appointment and follow up visit with Ashley. I couldn't be more thrilled with the color and shape. My brows were thin from thyroid issues and basic aging so I spent extra time trying to make them look good. No more worrying about sweating them off during work outs or wiping them off after swimming. I love my brows! Two of my friends who had Ashley do their brows recommended her and now I will do the same!
Kayla J.
★★★★★
I've been going to Blink Beauty Bar regularly for the last 5 months! In that time I've had my eyebrows microbladed and my lips blushed by Ashley, she did an AMAZING job with both! I got a full volume set from Savannah and have been coming back every 2-3 weeks for fills ever since. Savannah is amazing!!! I've gotten so many compliments on my lashes, lips, and eyebrows. I would never go anywhere else!
vmaze
★★★★★
For longest time I wanted to microblade my brows but was so hesitant about finding right person to do it. I picked microblading plus powder brow combination and was really impressed by results. Ashley is true artist, confident and passionate about her work. Could have not have picked better person to do do my brows. I highly recommend her and Blink Beauty. And her place is just gorgeously decorated.
Gabrielle K.
★★★★★
She was amazing! So happy with the results
Ashley P.
★★★★★
Ashley was amazing. Super nice and informative. She listened to my concerns and took her time to make my eyebrows the way I wanted them! I highly recommended her to anyone!
Melissa
★★★★★
Ashley is a magician with eyebrows. I had mine done somewhere else first. They were huge and just so bad!!! thankfully ashley was able to not only fix them but make them look great!! She is also very punctual and sweet!! Highly recommend!!
Amanda W.
★★★★★
First class service from start to finish. You always know your in good hands with Ashley!
Carrie W.
★★★★★
The owner, Ashley, is an upstanding business owner who rectified a concern I had immediately. She is extremely professional. Kudos to Blink!
Nina J.
★★★★★
Blink beauty bar is unlike any other salon in WNY. The new location is absolutely stunning and makes you want to stay once you're there! Ashley is a super talented artist and to my knowledge, was one of the first to bring the microblading technique to Buffalo. I have been to see her several times and can say that she is a true professional and has always made me feel very comfortable. I will continue to get my brows done by her and look forward to my appointments. I may even try one of the many new techniques she has told me about. 5 very enthusiastic stars for this amazing business!
Jason C.
★★★★★
John C.
★★★★★
Joulian C.
★★★★★
Samantha R.
★★★★★
THE BEST!!!!!
Miranda B.
★★★★★
Nice and clean environment. Everyone was very nice. My Eyebrows look amazing.
Sherri P.
★★★★★
I was referred to Ashley and can't be more pleased. I am obsessed with my eyebrows and how she did them. Her place is beautiful. Very comfortable and cozy. The staff is so friendly and accommodating. Highly recommend! You will love her! Don't miss out! Call her now!
Pamela F.
★★★★★
Wow! Wow! Wow! Ashley did a great job and the entire experience was wonderful. Professional, friendly, clean, efficient and the music in the background helped put me at ease.
Bonnie M.
★★★★★
Ashley explained everything, very friendly and professional. Beautiful salon and great location I'm happy with the results.
Juanita H.
★★★★★
I am so thankful Jordan Pursel referred me to Ashley. I wanted to be sure my eyebrows would be perfect and look natural. OMG! They look amazing. I am so so happy and have already called several friends to recommend Ashley! Great choice and great eyebrows.
Amma C.
★★★★★
Katelyn M.
★★★★★
I love Blink. Savannah has been doing my lashes for almost a year now and she kills it every time! Quality lashes, clean and professional. She has really perfected her craft. Wouldn't go anywhere else! The hybrid set is my favorite. Go see Savannah if you haven't already, you won't be disappointed. 🙂
Traci
★★★★★
Ashley helped fixed a bad micro blading from another artist . She was nice enough to look at them and make recommendations. After getting them lightened I was excited to have her finally do them . Even with my shading still dark they look fantastic . Strokes are perfect like I wished how they would have looked first time around . Don't cheap out on your brows 😂lesson learned . I can't wait to go back for my touch up . I can't recommend her enough
Reagan R.
★★★★★
First time getting lashes and I am more than happy with them! Amazing experience, super clean and beautiful place!
Jillian C.
★★★★★
I've considered microblading my brows for some time, but have always been too nervous that I would be unhappy with the results...especially because I've seen SO many that look SO unnatural. But, I was finally convinced after I saw Ashley's work on a family member. It was stunning.I just had my touch-up appointment and am BEYOND thrilled with the results. My brows are perfect, especially because they don't look like a cookie cuter brow. They still have their uniqueness, but are now symmetrical, full, and always camera-ready. Ashley is a true artist and I cannot believe how gorgeous my brows look. This is the best beauty investment I've made! Thank you, Ashley!!
Brittany G.
★★★★★
Savannah was so kind and professional! I hadn't had lash extensions for a few years and I was looking for something bold but not too intense- she TOTALLY nailed it. Thrilled to have found her and Blink!
Jen O.
★★★★★
Savannah from Blink Beauty Bar Buffalo did my eyelashes a few days before my wedding and they were the best set of eyelashes I've ever gotten. They were exactly what I wanted and they looked perfect for WEEKS. I get lashes done a few times a year and this was the best and most long lasting set I've gotten by a long shot so thought I would leave a note to thank her -- and to also say thanks for reaching out to people she knew in the area for ideas about alternate plans for my bachelorette party since I found out it'd be rained out during my appointment! Appreciate all your help & expertise.
madison R.
★★★★★
Love my eyelashes !!
Brooke M.
★★★★★
My first time getting my lashes done and they look AMAZING! The girls were so sweet and welcoming! Had a great experience!
Kristin B.
★★★★★
Lynn
★★★★★
I hired Ashley to do my eyebrows because of all all the wonderful reviews she has. I am very pleased with with the results. My eyebrows have never looked so good; very natural.
Lynn K.
★★★★★
Ash W.
★★★★★
Corinne S.
★★★★★
Super professional, ultra clean and very organized, Ashley at Blink Beauty Bar is just lovely and has serious skills as a microblade artist. It, truly, is an art and this gal knows her stuff! I've been contemplating getting my brows microbladed for years now & finally decided to do it! Ashley came VERY highly recommended and I, completely, understand why first person now. I'm SO HAPPY with the way Ashley shaped and microbladed my brows. We had the nicest time chatting and I, thoroughly, walked away feeling so pleased with my decision to get permanent makeup! I chose the right salon and the right artist & I'll be a client always!! She's a star in my book!!! ⭐️⭐️⭐️⭐️⭐️
Bridget D.
★★★★★
I am so happy I came here for microblading. They were so polite and professional, made me feel comfortable and it took less than an hour and a half to fix my sparse uneven brows. Couldn't be happier
Erika A.
★★★★★
Ashley was so great! She heard my concerns and gave me exactly what I asked for! Would highly recommend.
Ashley P.
★★★★★
I did the Microblading training with Ashley and her amazing assistant Basia.. they are so involved with the individuals needs and also hit the visual/hands on learners. Great classes and I can't wait for more!
Jennifer G.
★★★★★
It took me a while to finally schedule an appointment for microblading. I wish I had done it a long time ago! Ashley is amazing. She transformed my sparse, thin eyebrows into the perfect shape. They are finally symmetrical and match my hair color exactly - no more coloring necessary. She is truly an artist and I'll never go back to caring for my own eyebrows again!
Leah D.
★★★★★
I came to blink beauty bar for my microblading and it was f-ing awesome! Ashley was a complete sweetheart, my total experience was unbelievable, I can't believe what a difference it made it my life. They are so beautiful!
Allie
★★★★★
I loveeee Blinke beauty bar! I would never go anywhere else. Amy does my lashes and I always feel so beautiful when she does them. She NEVER runs late and is literally ALWAYS on time. She takes her time to make sure your lashes are perfect. She is the best lash tech I've ever had and I will not go anywhere else. I recommend Blinke beauty bar to everyone!! Their studio is also so stunning and clean!
Kristin B.
★★★★★
Ashley is an absolutely talented artist and the best at what she does. Her studio is impeccably clean, she's great communicator before, during and after your appointment, she listens to you and ensures that you are happy with the result. It's inAbe that someone with her level of talent is available in Buffalo, but I am so glad to have had her work on my brows and will recommend anyone I know looking for microblading services to her.
Grace S.
★★★★★
My mom went to this place and LOVED it! The lady there was so friendly and sweet. She did microblading on my eyebrows and they came out great. Not only that but she touched them up several times with no extra charge. Would 100% recommend this place! 💛
Dea P.
★★★★★
I went to Blink mainly because of the google reviews and I was not disappointed. Ashley is so good, professional and really knows her art. You can trust her to give you the look that matches your features and also to let you know what wouldn't look good. She's also such a fun person to talk to, my procedure flew by because she was such good company...go here!
Michelle C.
★★★★★
What an amazing experience Ashley is the greatest! And makes you feel so comfortable.I took her 2 day training class and learned so much about Microblading and lots of great tips . I am soo satisfied with her work,shes truly talented. Go check her out and learn a beautiful new skill its completely worth it.
Mia L
★★★★★
Audrey A.
★★★★★
Because of a medical condition, I have very faint and sparse eyebrows. Ashley has done an amazing job with microblading my brows and is truly an artist. My mother saw me directly after the procedure and said that they looked like they were my own brows, 30 years ago. I think they look better! I can tell you that Ashley far exceeded any expectations I had and I would enthusiastically recommend Blink Beauty Bar.
Nicole H.
★★★★★
This was my first time getting microblading and I could not be happier that I went to Ashley. I'm so happy with the results and can't stop looking at how awesome my eyebrows look! Ashley is amazing!! Thank you thank you thank you!
Jose A. C.
★★★★★
Very professional I love it. Ashley is the best. She's very sweet thanks I appreciate it 👍
Brittany S.
★★★★★
My eyebrows were horrendous and really needed some TLC. I was a little apprehensive to get microblading done, but Ashley was so friendly and personable that I immediately trusted her...and I'm so glad I did. It sounds a bit funny, but, it changed my life! Ashley is incredibly talented and we're so lucky to have her here in Buffalo!
Karen M.
★★★★★
Just had Ashley do my Ombré brow over previous microblading. I couldn't be happier. She's very meticulous and precise. The facility is exceptionally clean. My session was pain-free and I'm looking forward to how terrific it will be once the healing is complete. Thank you, once again, Ashley. Perfection!
Hayley R.
★★★★★
I went here to get my eyebrows microbladed after a recommendation from a friend. Ashley was great at both my initial visit and 6 week touch up. She made sure that I was satisfied with the shape and look of my brows during both appointments and made any little changes I requested. It's been a year since I initially got them done and they're still in good shape. I wouldn't go to anyone else for microblading, she's the best!
emily G.
★★★★★
Ashley did an amazing job. My microblading was done over a year ago and I've only had one touch up. I've been able to save so much time in the mornings.
Master Microblading From The Industry Leader
Learn the essentials of microblading and microshading with industry leader and owner of Blink Beauty Bar, Ashley Schuh. This two-day group course provides the comfort, confidence, and fundamentals needed to master each step-by-step process necessary to begin microblading professionally.
WAKING UP FLAWLESS IS PRICELESS!
We are WNY's 1st and #1 microblading destination! We specialize in microblading & are happy to announce we are now offering eyelash extensions and full body waxing! Keep your eyes peeled for some amazing new services coming soon that are not offered in Buffalo!
We specialize in eyebrow microblading, an advanced brow embroidery technique whereby superfine hairlike lines are deposited into the skin with pigments.
Eyebrows are natural. And that means for most people, their eyebrows are not naturally perfect. Some eyebrows require little effort while others need more help to look their best. Luckily, microblading can transform any brows into the eyebrows of your dreams.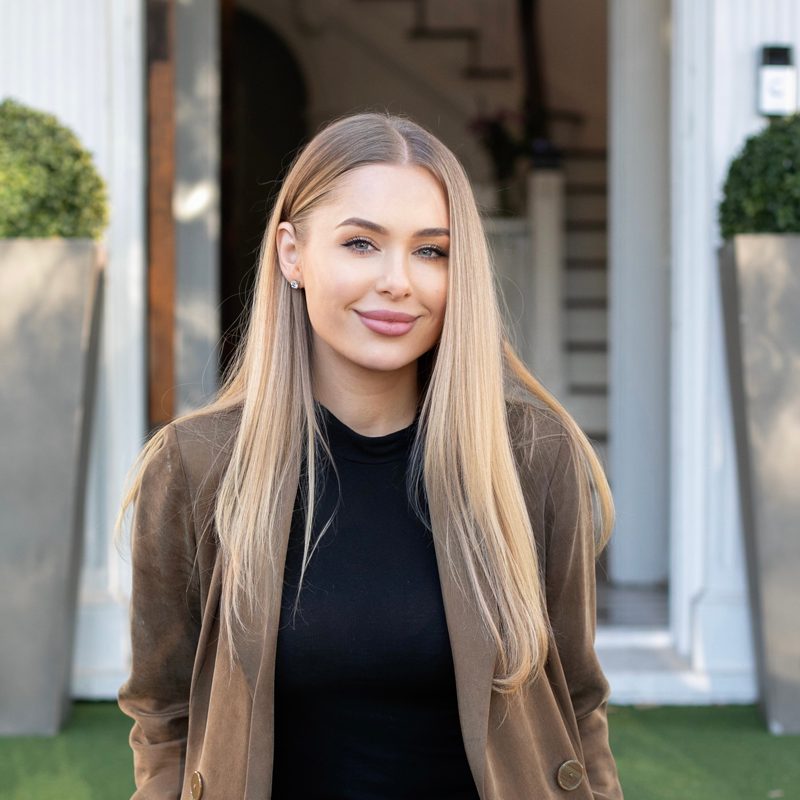 ASHLEY SCHUH
Owner & Lead Artist
Ashley is the founder and owner of Blink Beauty Bar. Built from the ground up based on her work and talent, her brand rapidly spread throughout the New York area in just two short years and has now reached clients from over 3,000 miles abroad!
Ashley is a visionary in the work of semi-permanent and permanent makeup and is dedicated to offering the most reliable and cutting-edge services to clients who wish to enhance their appearance. Her wish is to offer only the absolute optimal services for each client to feel their very best with confidence the moment they step out the door.